As you all know, its been a stressful sort of week in the Jonty household with FD's surgery being cancelled at the very last minute. FD's reaction to this was to scream, cry and generally be very upset. And who could blame her! I was pretty upset myself! So, an action plan was put in place. We had to find new ways to distract her! Plus, I reckoned it was about time I stopped feeling sorry for myself, brushed my hair, changed into my Superwoman knickers and opened the wine chocolate! There's only so much self pity a person can do before your husband avoids you because your breath is so bad due to eating copious amounts of cheese and onion crisps (comfort eating taken to the extreme) and begging for sympathy sex! (Any old excuse eh ladies?)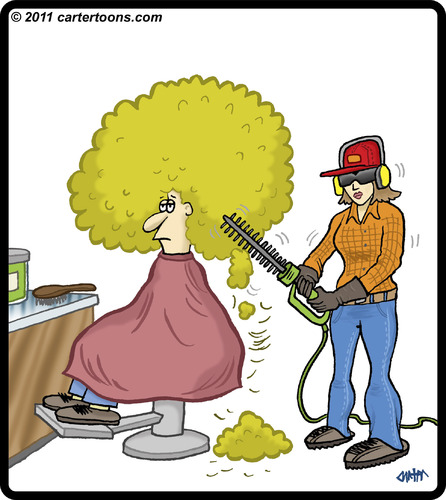 One such way that Afro boy found to take FD's mind of her upset was to get rid of his Afro! Now what the bloody hell am I going to call him! Snooker Ball head boy? Nah! Baldy boy? Nah! Oh I don't know. I think he will always have to be known as Afro Boy on this blog because as sure as the the pope wears a funny hat, he will at some point grow the bloody mop of hair back again. He had intended to get it cut when FD was in hospital as a surprise for her but given that she was so upset about her operation he took the extreme action to go and get his head shaved for her! I am hopeful that it will also increase his girlfriend / job prospects as he does not appear to have much luck on either front. I suppose me constantly reminding him that having his hair looking like a dead cat on his head would mean he would be a 40 year old virgin still living at home in 21 years! Apparently teenage boys don't like you saying the words virgin to them! I'm hoping that to further cheer me up he will clean his cesspool of a bedroom. No girl in her right mind would go near that bed of his! Actually, I'd be surprised if she could find the bloody thing.
Another way that I thought to distract FD from the upset that she was feeling was to remind her that it would be Christmas in 6 months! Yes I know its too early to mention Christmas but I was getting desperate at this point! Four hours of continual crying was beginning to take its toll on my ears and ability to keep away from the wine in the fridge! I told FD it would be a fab idea to have a look on Amazon for some gift ideas for her. As I have previously written, FD does not like to tell you what she wants for Christmas or birthdays so it becomes a guessing game. One where all hell breaks loose if your psychic powers are having an off day! FD loved the idea of spending time on Amazon looking at all manner of things. All appropriate safety precautions in place regarding her logging onto dodgy sites, I opened up the Amazon home page on the laptop, sat beside her with a nice cuppa and a good book and let her get on with things. What could go wrong. I hadn't logged myself in to my account. Besides, I knew she wouldn't go ahead and buy things anyway after the last fiasco with eBay where she bought a £3000 car! Having her pocket money confiscated for that seemed to have hit home with her and she hasn't bought anything since. Plus, I was going to be extra vigilant this time and monitor her on the site. Apparently I didn't do a good enough job! I forgot that I was already logged into the Amazon site and hadn't logged out so she went straight into my account!
Don't panic!! FD didn't buy anything you will be pleased to know. I can hear you all breathe a collective sigh of relief. No, she simply put a number of items into the shopping basket. When I say a large number, I mean a LARGE number. Over 100 items totalling £9637.76! The basket just said there were 99+ items. Too many for me to count! Bugger!
She had everything in there for goodness sake. What she needs a pink motorbike helmet and matching leathers for is beyond me! We don't own a motorbike! Then there were Halloween costumes and clothes for the dog - dinosaur, Dracula or a tee shirt that says BITCH MAGNET!!! The mind boggles. In the basket there were also a few wedding dresses, about 20 different kinds of lunch boxes and a smattering of pots and pans, wigs (21) and baby clothes! She appeared to particularly like a baby tee shirt that said 'what goes on in nursery stays in nursery' so she put 8 of every colour in the basket! And, don't even get me started on the amount of Justin Bieber items she wants! There is no accounting for taste I suppose!
I suppose this episode has taught me a number of valuable lessons. Firstly, log yourself out of websites when you are done. Will I never learn?!! Secondly, don't forget that some children take things literally so when you tell them to make a list of all the things they would like as gifts they expect you to buy the bloody things. Thirdly, be more vigilant on the computer. I guess I will be doing the Lottery for a while yet.