Sometimes I look at my daughter and I get so frustrated because there are times when her autism and learning disability make me want to scream and shout and stamp my feet! I often want to shout at her 'But why can't we take the escalator?' Or, 'What do you mean you aren't getting into the lift?' Yes I do spend a lot of time running up and down stairs!!! FD is afraid of so many things and at times it makes me want to cry. I also get frustrated because at 13 she still can't tie her own shoe laces or not go to the loo without blocking it! Me and my trusty coat hanger are always on call to do a bit of DIY toilet unblocking! My life is so rock and roll!
FD also has a lot of sensory issues. The main one being that she is very touch sensitive. She recoils when I try to cuddle her and this saddens me. Of course she will accept a hug but only if she has snuggled into you first. And even then she sometimes doesn't want to be touched. Medical examinations are impossible and on one occasion she has headbutted a poor paediatrician because the woman tried to listen to her heart with a stethoscope! It was kind of one of those wishing the floor would open up and swallow me moments! We all have them! You guys know what I mean! Surely some of you have had that cringe worthy moment that your kid has let you down a bucketful. No? Just me then? Oh OK.......
Anyway, FD's touch sensitivity can cause all manner of problems. As I previously blogged, last year we got a puppy for FD in the hope that he would help bring her out of her shell and socialise a bit more. And it has worked. She loves the dog very much. However, one thing she has never done is let the dog sit on her knee. He's a small dog - a Westie Cross. So, he's not big. Anytime the dog has tried to sit beside her she has got up and moved away to another sofa. We do have one lovely photo of the pair of them however the first day we got the dog. He was lying sleeping on the rug in the living room and FD lay down beside him, not quite touching him but very close. She called him her new best friend and it was a moment that had me blubbing like a lunatic. Anyway, that's as much progress as she had made in being physically close to the dog.
Let me tell you a few things about this dog. Firstly, he is totally insane. He runs around the house barking his head off at himself. He chases his tail until he falls over. He climbs on the back of the sofa and uses his paw to turn your head round to look at him. He drops his bone on the laptop to get your attention. He watches T.V (he loves the soaps and Marmaduke). He does a high five at you as you meet him at the top of the stairs. He wrestles on the floor with my son, and eats his Afro. He bites my toes when I walk and he bounces on my husband the minute he sits down. He does all these things with us but not FD. He has learnt not to jump on her or wrestle with her or nibble at her fingers or toes. He has learnt this instinctively without ever being taught. He's a clever wee sod!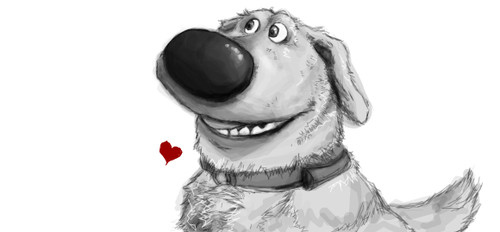 Over the last few weeks I have observed a number of things happening between FD and the dog. Firstly the dog sits every morning and waits for FD's bus to collect her from school. He looks out the window longingly at about the time the bus comes. When he sees it he turns into a tornado on legs and dashes to the front door barking excitedly because he knows that the escort on the bus will scratch behind his ears and the kids will get very excited to see him, calling his name and clapping their hands with excitement. Secondly, when its time to put FD to bed the dog follows me and lies on her bed when I am sitting with her having a chat. He NEVER lies on anyone elses bed for any length of time (unless he's eating one of my shoes). What is amazing is that FD is letting him lie on the bed, albeit not to close to her. She has asked that he be allowed to sleep with her but I'm saying no to that because he'd end up eating one of her teddy bears and then all hell would break loose!
Another observation I have made is that FD is now starting to pet the dog and ask him for his paw. He is happy to oblige as he knows theres usually a doggie treat in store for him. I just think it is wonderful that she has made this progress. I love the way she talks to the dog and she gets so much pleasure from him. I love the way that he treats her differently than everyone else he comes across. He treats her special. Just when I thought that progress couldn't get any better, it did.
Last week I was sitting at one end of the sofa reading. FD was lying at the other end of the sofa on her ipad looking for pink cars on eBay (its her latest obsession at the moment). The next thing I know the dog jumped up on the sofa. Now normally he comes and lies across my knee or on the arm of the sofa. Not this time. This time he positioned himself behind FD's knees, lay down, rested his head on her leg and put his paws around her ankle, almost hugging her. I could hardly breathe at this point, waiting for FD to go into complete meltdown.
I was so torn, not knowing what to do next. Should I move the dog? Should I discuss what was happening with FD or would this trigger a reaction from her. I chose to point out to her that the dog was snuggled into her. She rolled her eyes and told me that she knew already and that it was OK! FD and the dog lay on the sofa together like this for about an hour before FD decided that she had had enough. THIS IS HUGE! And as for the dog, bless him. He didn't move the entire hour. He kept perfectly still.
So, I know for lots of people they might say, 'whats the big deal?' But for those parents with a touch sensitive child its a great achievement. FD never fails to amaze me. Of course we might have setbacks before we have more progress. But, that's OK too. Life would be pretty boring if everything just stayed the same or things were achieved too easily. Whilst all my friends are celebrating the fact that their teenage daughters are excelling in school, or have got their first boyfriend, I am celebrating that my child and dog had a cuddle. But hey, it makes me happy!