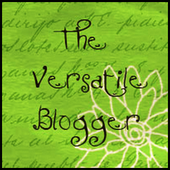 I am very honoured to have been awarded a Versatile Blogger award by the very lovely
Linn Halton
. Thank you so much Linn. I was really chuffed to bits to have been chosen to take part in this. As Linn states on her blog...............

The rules of the award are:
1. Thank and link back to the person who gave you the award (done)
2. Share seven things about yourself (see below)
3. Send it onto fifteen other bloggers you appreciate and let them know you have awarded it to them (see below)
So, here I go! I really am struggling to find anything semi interesting to say about myself without boring you all to death but I'm game for anything! Some of you will probably know most of this stuff.
1. I am a vegetarian - after watching a documentary about an abattoir when I was aged 15 I never ate meat again! I am 41 now and have never strayed off the vegetarian path. I don't eat fish either. My mantra is.........'never eat it if its got a face'! I don't impose my vegetarianism on my family and will happily cook meat for them. When I was a student I was so broke I took a job working behind the meat counter in a supermarket!
2. I am afraid of the dark! This is a great source of amusement amongst my family. I have an app on my iphone which is a virtual candle so that if I am staying overnight somewhere that is not home I have my virtual candle lit all night!
3. I have a ghost. Well an apparition. My husband of course does not believe me but on some occasions I waken up to see a tall man standing in the corner of the room. I can never see his face but I know he had a beard and reddish coloured hair. He sometimes comes over to the bed and leans on my chest until I can't breathe. Then he leaves. I have been known to run out of the room screaming my head off. My husband says its just a vivid dream but it recurs regularly and scares the crap clean out of me!
4. My husband and I have been married for almost 5 years. We have both been married before and when we split from our first spouses we were a great support to one another, eventually becoming best friends. This of course progressed to 'friends with benefits' until we both fell for each other! Not sure if that's romantic or not!
5. I fell into a duck pond when I was 2 years old. I was wearing a fur coat and boots and sunk to the bottom. My mum had to jump in and rescue me. When she got me out of the water a lady who was also at the pond with a little girl the same age as me offered my mum the new clothes she had just bought her daughter so that I could get out of my wet things. Many years later my mum introduced me to the little girl and we still see each other to this day and smile knowingly when we see each other.
6. I once posed as a milk maid along with my sister for a publicity feature run by the local council. We looked totally ridiculous but it was paid work. The photographer later took me to one side and offered me some 'interesting other photography work' for a hefty fee! Needless to say I turned him down!
7. A couple of years ago I took pole dancing lessons. It nearly sodding killed me! I ended up with so many bruises and was so sore after every class that my work mates had to raise my computer chair at my desk as high as it could go because I had trouble sitting down!
Ok! Phew! That was difficult!!!! I'm exhausted now! So, now to pass the award onto more victims bloggers! Please don't feel you have to do this. Its just a bit of fun so no pressure. The lucky 15 bloggers I love (in no particular order) are: