Today FD had an anaesthetic assessment at the hospital. She was supposed to be having her operation next week but that has all been put on hold because of the continuing problem with her blood. We have another appointment on Friday for further tests in relation to this. However, the anaesthetic assessment went ahead today as planned.
Our appointment was first thing this morning so we drove up the road at breakneck speed to ensure we would make it on time. FD was initially quite apprehensive about the appointment but managed to contain an imminent meltdown. We sang a few songs in the car journey which took us an hour in rush hour traffic. She complained I sounded like I was dying because my singing was so bad! At one point during the car journey she got very excited and started pointing at the car beside us and shouted 'THERE'S JESUS'!!! She scared me half to death! She kept shouting, 'JESUS IS DRIVING THAT CAR! YOU NEVER TOLD ME JESUS COULD DRIVE!! AND HE'S WEARING A SUIT'!!!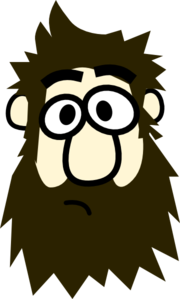 Do you know how difficult it is trying not to crash the car when you daughter is telling you she can see Jesus! When we managed to stop at a red traffic light I was able to find out just what exactly she was getting so excited about. Beside us in a beat up old Mini was a guy with very long hair and a huge big long beard! He looked like Jesus in a suit! FD was beside herself with excitement and this managed to keep her occupied the rest of the car journey. The bearded gentlemen saw us looking at him through the car window and gave a knowing nod. I guess he got the mistaken identity thing a lot!
Anyway we arrived at the hospital with just minutes to spare before our appointment and screeched into the car park like Stirling Moss! Our appointment was to take place in the Paediatric Intensive care unit where FD will be spending the first couple of days after her operation. When we arrived onto the unit we were greeted by our anaesthetist Dr C. And I instantly fell in love! He was a huge bear of a man from Nigeria. I loved his voice! I loved his manner! I loved the fact that he was a true gentleman! He was fantastic with FD and treated her with the utmost care and respect. He explained everything he was going to be doing during the assessment and constantly asked her permission to touch her or to carry out tests. He obvously had taken on board the fact that she is touch sensitive and assured her he would not do anything she was not comfortable with.
During the assessment FD had her blood pressure and heart checked. Her height and weight were recorded as was a full medical history and a discussion about her epilepsy. Some blood was taken from the artery in FD's wrist to check to see how the blood was oxygenating (I think that's right?!). The physiotherapist came and carried out a breathing test on FD's lungs to check her lung capacity. Dr C talked us through some of the surgical procedure and attempted to explain to FD what sort of things would be happening just before her operation and as she was going into theatre. He explained how he was going to help to make her pain small instead of big and discussed with me pain relief such as an epidural or morphine drip. We discussed blood transfusions as she is expected to lose a fair amount of blood during surgery. Unfortunately FD thought this mean she was having a body transplant and we had to explain to her what a transfusion was! Dr C took us to have a look at where the theatres were and showed FD where she would be having her operation.
At the end of our assessment Dr C walked us out of the unit, got in the lift with us and walked us right to the front door of the hospital, shook our hands and bade us farewell. I was even more in love at this point! Throughout our experiences with many medical professionals we have come across some who try their best with FD but never quite get it right. Some who don't even try and some who are just so impatient and not willing to try to understand her difficulties. But our experience today with Dr C was the perfect example of how our very special children should be treated by all those who deal with them. Major surgery or medical procedures can be taunting for any child. But when you are dealing with a child with special needs that experience can be terrifying to the extreme. Their lack of understanding or sensory issues can make the experience so much worse for them. I am came away from the hospital today having a little bit more faith in the people who would be caring for my daughter.
Of course I also came away from the hospital a total basket case. FD might have held it together today but I must admit, I did not! Once I dropped her to school I drove home crying like a baby. I stuffed my face with chocolate biscuits and tea the minute I walked through the front door! Throughout the rest of the day I vainly attempted to write reports for work. I am pleased to report at least one report got written but here are no chocolate biscuits left in the house! Today was a day when I really needed my superwoman knickers and I have never been so glad to see the Tesco man delivering my shopping! He had chocolate biscuits!